Article (PDF Available) · January with 42 Reads. Export this citation. Jan Krikken at Naturalis Biodiversity Center · Jan Krikken. Naturalis. A second species of Platygeniops Krikken, (Scarabaeidae: Cetoniinae: Trichiini: Osmodermatina) is described from the Myanmar-Thai-Malay isthmus and. A series of. taxonomic publications on Asian. Bolboceratinae were then made by Krikken. (ab, ab, , , ), Carpaneto.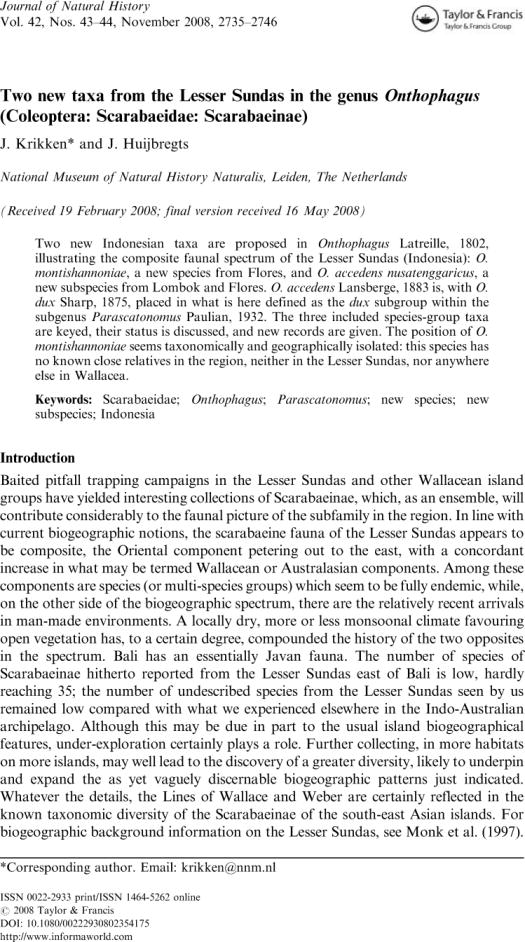 | | |
| --- | --- |
| Author: | Zulukree Momi |
| Country: | Ethiopia |
| Language: | English (Spanish) |
| Genre: | Science |
| Published (Last): | 10 June 2004 |
| Pages: | 200 |
| PDF File Size: | 1.68 Mb |
| ePub File Size: | 20.74 Mb |
| ISBN: | 333-6-41748-142-2 |
| Downloads: | 58924 |
| Price: | Free* [*Free Regsitration Required] |
| Uploader: | Migul |
A generic reclassification of the Afrotropical Bolboceratini Coleoptera: Distinguishing the Sundaland species in the Onthophagus Parascatonomus aurifex group Coleoptera: Sulawesi Onthophagus with paraocular protrusions: A new Ingrisma species from Hainan Coleoptera: For about the past 20 years he was heavily engaged in administration at the Natural History Museum in Leiden, and so he has not been recently active with scarabaeoid research.
Aphodiidae uit mest van Nederlands grofwild. New bolboceratine genera from southwestern Africa Coleoptera: Platygeniopsa new osmodermine genus from Southeast Asia Coleoptera: Photo by Brett Ratcliffe.
Distinguishing the Sundaland species in the Onthophagus. A remarkable new two-horned species of Onthophagus from.
The genus Bolbelasmus Boucomont in Asia, with notes on species occurring in other regions Coleoptera: Some peculiar cetoniine beetles from South West Africa. A third valgine species from the island of Sulawesi Coleoptera: Cremastochilodius tristisa new scarabaeoid genus and species from Brazil.
Notes on African Onitini, mainly from southeastern Kenya Coleoptera: The genus Bolbocerosoma Schaeffer in Asia Coleoptera: First record of the genus Amphistomus from the Moluccas Coleoptera: Taxonomic reviews of three small cremastochiliform genera from Asia and Africa Coleoptera: A new species of the African genus Genuchus Kirby Coleoptera: Taxonomic diversity of the genus Ochicanthon in Sundaland Coleoptera: North American myrmecophilous beetles of the genus Cremastocheilus: The Afro-Asian Bolboceroides validus group Coleoptera: Het vliegend hert Lucanus cervus Linnaeus in Nederland.
Telochilus freyia new genus and species from Nigeria Coleoptera: Dung beetles in tropical forests in South-East Asia.
Two new species from Kenya in the physogastric termitophilous genus. A new genus and species of cetoniine beetle Col.
Geotrupidae from the Nepal Himalayas. Termitophilous scarabs of the tribe Corythoderini: Onthophagus pilularius and its close kfikken in Sundaland: Taxonomic review of the Afrotropical genus Dicronorhina. A taxonomic review, with descriptions of four new species Coleoptera: Bolboceratine scarabs of the Oriental genus Bolbohamatum nov.
Asian bolboceratine scarabs of the genus Bolbogonium Boucomont Coleoptera: Taxonomic review of the Afrotropical genus Dicronorhina Hope, with notes on its relatives Coleoptera: Overzicht van wijzigingen in de lijst van Nederlandse kevers An interesting case of camouflage in African dung-beetles of the genus Drepanocerus Coleoptera: Indognorimus and Indotrichius 178, new genera for South Asian Trichiini: Tijdschrift voor Entomologie Two new taxa from the Lesser Sundas in the genus Onthophagus Coleoptera: